A smarter asset strategy
In a challenging era, where bus and coach businesses constantly seek strategies to optimise growth whilst managing risk, Matthew Bull, Commercial Manager at Dawsongroup Finance, explains the company's game-changing Smarter Asset Strategy, which could have a transformative potential for the way bus and coach companies approach their wheeled assets
Bus and coach operators must keep their fleets up to date, replacing older, less-appealing vehicles which are costlier to run with newer, greener ones, as well as expanding their line-up where opportunity allows.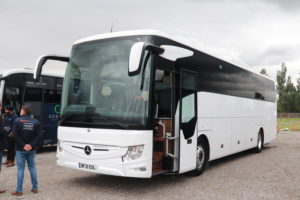 But buses and coaches are a depreciating asset and a costly one. Purchasing a new PSV comes with a hefty financial outlay, which can never be fully recouped at the point of resale – so rather than straining cashflow and tying up too much capital in your fleet, financing doubtless makes the best business sense.
But what if rather than just spread the cost, you only paid for what you needed? What if you financed that asset only for the period during which it is useful and getting hard-to-earn money for your business, rather than the life of the vehicle? What if you could make your assets work harder for you?
What is the Smarter Asset Strategy?
Dawsongroup Finance's Smarter Asset Strategy is an intelligent approach to procuring and funding the assets a business needs to thrive, so that they deliver their full value and usage, but in a way that minimises their cost, helping to protect business capital, vital for flexibility and agility.
"The Smarter Asset Strategy is simply about the customer acquiring and financing their assets in the best way for them. That might not mean buying an asset, but instead financing or renting it for the period during which it is useful to them – so only paying for the period of time they're using that asset," explains Matthew.
"Having options is key. The best fit might be a Personal Contract Lease either for long or short term, with maintenance included – effectively an operating lease – or without it."
"It might be that a rental rather than financing the full asset suits them best so we might pass them along to our colleagues at Dawsongroup Bus and Coach. We're not bound to any manufacturer or supplier, so we aren't required to push any particular product, and we have 80 years' experience as part of the hard wheeled asset supply chain to draw on. It takes the headache out for the customer having to figure out what the best solution is," said Matthew.
"This sector was one of the hardest hit by Covid and has had the longest recovery of any of the supply chain sectors. Since the pandemic this market has been seen as difficult to fund into, and your typical banks and high street lenders have walked away because they just don't understand it.
"We're very much still in it. We have our Bus and Coach division with the PLC, so it's a market we know and understand well."
Preserving capital and driving growth
For bus and coach companies in particular, the option of fully-serviced assets can alleviate the financial burden associated with maintaining and replacing vehicles, making for a reliable fleet and minimising potentially costly downtime.
It allows them to redirect capital towards essential growth initiatives, such as expanding their fleet, or improving services, whether by offering a broader range of destinations, improving passenger comfort, or incorporating advanced technology. These value-added features can increase customer satisfaction, resulting in higher demand and increased revenue for the business.
In this way the conventional notion of assets as expenses is challenged by Dawsongroup Finance's Smarter Asset Strategy. They can be seen as hard-working revenue generators; while you're paying for them, they're earning their keep.
The rise of usership over ownership
Dawsongroup Finance's Smarter Asset Strategy embraces the concept of usership over ownership. In an era where flexibility and adaptability are paramount, the model of owning assets outright can be limiting. By shifting to a usership model, bus and coach companies gain access to state-of-the-art vehicles without being burdened by the associated costs and risks of ownership, allowing their businesses to be more agile, responsive to market trends and seasonality, and adaptable to changing customer demands.
The key to unlocking this potential is being smart about how you approach and manage assets, seeking a tailored solution that actually suits how your business works, not just what deal looks cheapest on paper.
Adds Matthew: "When assets are genuinely tailored to how your business works, and the way in which they will be used, any wasted cost is cut out. That can make a huge difference to how healthy a business is."
In this way bus and coach companies can preserve capital, unlock cost savings, maximise asset potential, and position themselves for sustainable success in an evolving market.