Tour op launch delayed by COVID-19
Ian Seaward was on the cusp of launching his new tour operation before the pandemic struck. He's down, but not out
The launch of a new coach touring operation has been delayed by the COVID-19 pandemic…but its owner isn't deterred one bit.
Ian Seaward, an experienced coach driver, set up Seawards of Harrogate just before the outbreak of the virus, securing a deal on an ex-Parrys International Van Hool Astron from H Atkinsons and Sons of Ingleby and getting an entire brochure planned and printed and putting in to place the required insurances. Private hire and holiday bookings were looking good only for the government to implement lockdown 2 days before the first tour was due to depart, at this point Ian had done just one day's work with the vehicle.
But they're made of tough stuff in Yorkshire, and Ian's undaunted: "I've written off the cost of the first brochure, The first three tours have been cancelled, the customers have been offered full refunds or to move their balance to a tour later in the year with an offer of a free day trip from our next brochure, many have requested full refunds and indicated their going to rebook when the pandemic is over and the rest have transferred to another tour later in the year" Ian says. The private hire work has all but vanished, a few have already rebooked for later in the year "The coach is now SORN and I haven't got too many fixed costs, so I'll be waiting for lockdown to end."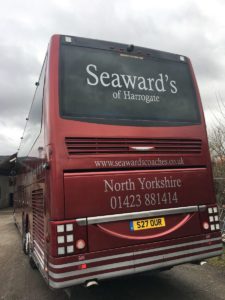 When Seawards of Harrogate finally gets going, it will be serving people in the Otley, Ilkely and Guiseley areas, its tours underwritten by the Towergate Trip 'bonding' system of consumer protection: "I'm now having 1800 copies of the autumn/winter brochure printed ready to send out for the end of lockdown," says Ian, whose wife will be courier on a number of the departures.
Ian paid tribute to Martin and David Atkinson, of H Atkinson & Sons of Ingleby, who sold Ian the Van Hool. Latterly, Ian had worked for the family-run company: "Martin and David have been endlessly helpful and I owe them a great debt of gratitude. They're such fantastic people."