Buses bow out – event highlights part 1
Coach operators who've had to sidestep buses at previous shows had nothing to complain about this year, as Coach and Bus UK 2017 was very firmly a coach-orientated affair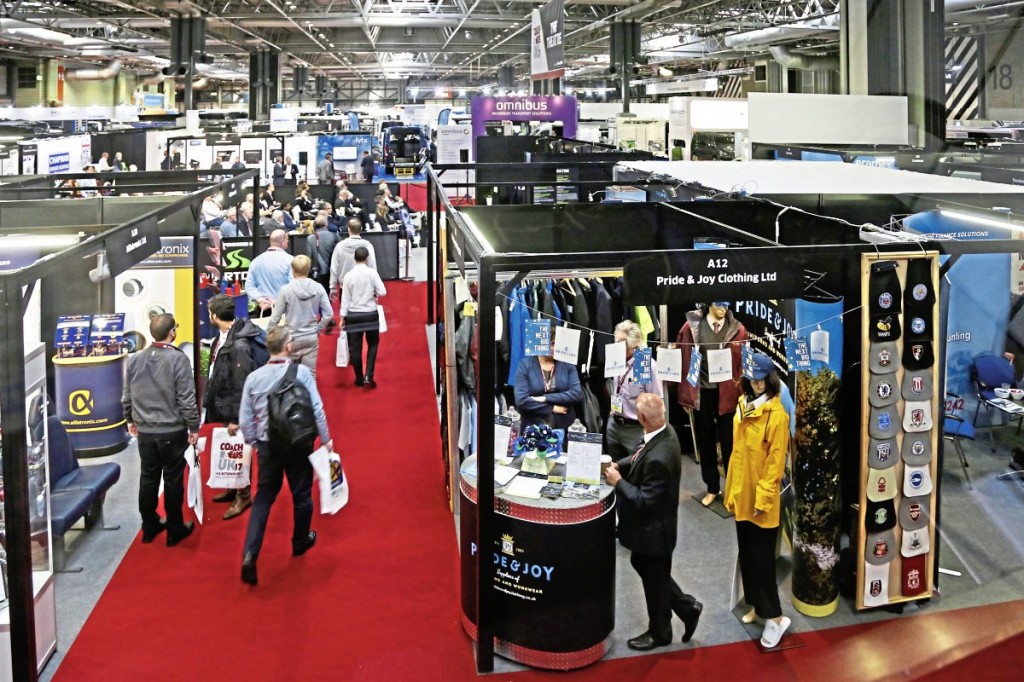 You'd be forgiven for thinking the 'Bus' part of the show logo had fallen off, Conservative Conference style, when this year's big exhibition opened.
Bus builders were notable by their absence, but the outcome was a focus on coaches and some of the most interesting products in years. Nor did this seem to the detriment of attendance, with visitors packing the stands on Wednesday, and only marginally fewer filling the aisles on Thursday.
In this review, we've cherry-picked the highlights of the event.

Caetano on electric trail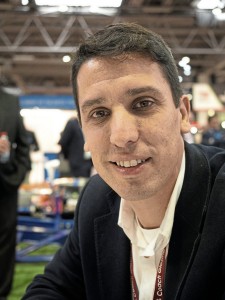 Taking centre stage on the Caetano stand was a new electric bus chassis which the Portuguese manufacturer is touting to UK bus builders.
The chassis has been in development since 2008, and is fully customizable to 9.5-metre to 12.7-metre body lengths, with an articulated version in the pipeline. It can be engineered with the offset Siemens drive motor in front or behind the rear axle, and on either side, and is set up so manufacturers can use any type of battery pack in any position, for maximum build flexibility.
Jose Costa (top right), the Head of Electric Mobility Bus and Coaches, told Bus & Coach Buyer in an exclusive interview that the decision to make the layout completely flexible came at the start of the project: "We are integrators with knowledge of bus building, having been doing this for 70 years. But this one can be custom made to the needs of the client and has the capacity to be adapted to suit any body.
"The bus can then be literally built to suit each city, with any power supply, while Caetano will provide the expertise to provide the interfaces with the power supply. The battery is the key with many operations. From our perspective, we just need 700 Volts and can then complete the chassis design to suit."
The Siemens drive motor on the show example was mounted on what would be the offside in its LHD guise, its propshaft angled inwards towards the diff. But the motor can be positioned fore or aft of the axle, and on either side, depending on the favoured position of the centre or rear door.
Lead time for delivery could be as low as two to three weeks, said Jose. Caetano is already in series production in Portugal with its own electric bus body based on the chassis, 21 buses being in production and additional electric bus tenders maturing soon. The vehicles will have integrated telematics, remotely monitored by Caetano.
Jose said the electric bus market is maturing already, with many operators realising that it is as easy to adapt duties to the range of a vehicle as try to add expensive batteries in an attempt to extend range.
Also on the Caetano stand was the new Levante III, based on Volvo B11R. As reported last week (B&CB 6 October), the National Express inspired coach is loaded with new passenger and driver features. The coach was closely examined by most of those visiting the show.
New Higer midicoach to arrive in 2018
The Harris Group in Dublin has announced a new, Euro 6 version of its Super 9 midicoach which will have a number of upgrades.
The Cummins-engined vehicle launched in the UK in 2014 was engineered with the UK and Ireland market in mind, featuring many well-known components from Allison and Wabco, for example. But the company's Sales & Marketing Manager, Chris Haughton, says the revised Super 9 will be a significant upgrade.
In addition to much of the lower paneling and locker doors being in aluminium alloy to avoid corrosion, the Chinese Higer Bus group has worked on sound suppression throughout, including installation of a bamboo-based floor which it claims will significantly reduce road noise.
"The new Super 9 will have all of the mandated safety aids such as Lane Departure Warning, alloy wheels, seven cubic metres of luggage space and a ZF EcoLife gearbox," said Chris. Engine will be the same Cummins ISBE 6.7-litre unit rated at an impressive 300bhp which, in a 10-tonne coach, should give ample performance.
"My customers tell me that their groups are getting smaller and don't want to rattle around in a 57-seat, full-sized coach. The Super 9 in 37- or 41-seat versions offers full coach hire rate for high specification and low cost."
Harris Group has ensured the Super 9 comes with every conceivable 'extra' as standard, said Chris, so the pricing will be simple. The first of the new version will arrive in Ireland in the New Year, though three of them had already been sold at the show.
Harris Group is also having LDV's new V80 base vans converted by Joe Ferry at Euro Coach Builders in Donegal. The Mini B comes with 14+1 seats with sliding door or front entry. It can be equipped with a 400kg wheelchair lift and seats with NMI flooring locks.
There were two examples of the low-cost van conversion at the show. Both vehicles featured a front entrance with automatically deployed extra step. One had the seating mounted on tracks and the nine seats were fitted with NMI quick release fittings with wheels. The vehicle also had an in-board passenger lift and can carry one wheelchair.
The other vehicle was fitted with 14 fixed seats.
Mago 2 midi well received, says Moseley
Among vehicles on Moseley PCV's stand was a new Indcar Mago 2 – an Iveco 10t-based midicoach which may rekindle the Indcar brand, said Karl Moseley.
"We're still wading through the positive interest we've had in it," he said. "It's in 29-seat or 31-seat configuration, and is based on the Euromidi with Euro 6 Tector engine and ZF gearboxes. Customers who'd previously had Maxim have said they would buy another, and this is the equivalent, in left-hand drive."
Moseley also showed off the Mercedes-Benz Atego-based Indcar L8 and L9 – a more traditional coach shape, the L8 going to 10t and the L9 to 12t.
From the same Arbucies region of Spain was  a stunning 13-metre Beulas Aura – a 'semi super-high' on MAN's RR4 chassis for Bensons Travel of Whitchurch, Shropshire. The 550bhp engine drives through a ZF AS-Tronic gearbox: "Bensons is a very demanding operator," said Karl. "For example, they wanted a holder for the cleaning equipment, but at Beulas, that's never a problem."
Also being shown off was a VDL Futura FHD for Hemmings, again with some customisations. It was supplied with a 440bhp engine and AS-Tronic gearbox. Finally, Westway's stunning Van Hool Acron T916 in Van Hool's 70th anniversary livery – to be repainted for Westway – ensured Moseley PCV had a packed stand both days.
"It was a very successful show for us, with Tynedale ordering a new Astron for football club work – the fourth this operator has bought from us. In the next 12 months, we'll be announcing VDL chassis for Beulas, and products from the Cygnus, Glory and Mythos range.
"Although the 19.5-tonne GVW increase isn't a magic wand, a 13,.5-metre, two-axle VDL which will give operators 59 seats plus toilet or 51 seats, or 61 seats without, is an interesting possibility for next year."
Irizar i6S Integral bridges gap
Irizar UK formally launched the i6S Integral – the development of the company's most popular model which includes important design elements of the flagship i8 Integral.
Not only does the i6S include a number of the i8's styling cues, beneath its skin it has the electrical architecture of the i8, including fully multiplexed circuitry which massively reduces the complexity of the wiring loom and its reliability.
i6S is an all-LED vehicle, which should reduce bulb failure front and back. Inside, Irizar has built a new dashboard with the option of the touchscreen 'Human Machine Interface (HMI) media controller. Ergonomics of the dash layout are claimed to be improved.
The DAF engine series throughout the Irizar range has also been updated with the DAF Paccar OBDC improvements announced at the CV Show this year, offering longer service intervals and reduced fuel consumption; the MX11 and MX13 range has been such a success, it now underpins a third of the UK truck market and is increasingly being chosen in the USA in Kenworth and Peterbilt tractor units.
Irizar UK also showed off the i4H hybrid interurban coach which promises a 20% reduction in fuel consumption thanks to its parallel electric drive. Primarily used to pull away and to recharge the nickel-sodium battery pack when on over-run or braking, the drive motor and the Cummins' 6.7-litre diesel engine are paired with an Eaton six-speed gearbox.
The i4H has a particularly clever cooling pack. While many manufacturers use a single fan and multiple, stacked cooling matrices, Irizar has opted for five smaller fans, each with its own matrix, to achieve optimized cooling for the engine, electric motor, battery pack and auxiliaries. Mounted kerbside behind a louvred panel, all cooling radiators can clog with road dust. On the i4H, the system incorporates a polarity reverse switch which can then 'suck' all the dust back out of the matrices at the service centre. The entire system is from common UK components.
Outside, Irizar treated customers to a ride in the i2e, the fully-electric bus trialled in London which uses recyclable nickel-sodium batteries, and claimed to give a 160-mile range on a single charge, plus a seven-year life in first use.
Pelican Bus and Coach/Yutong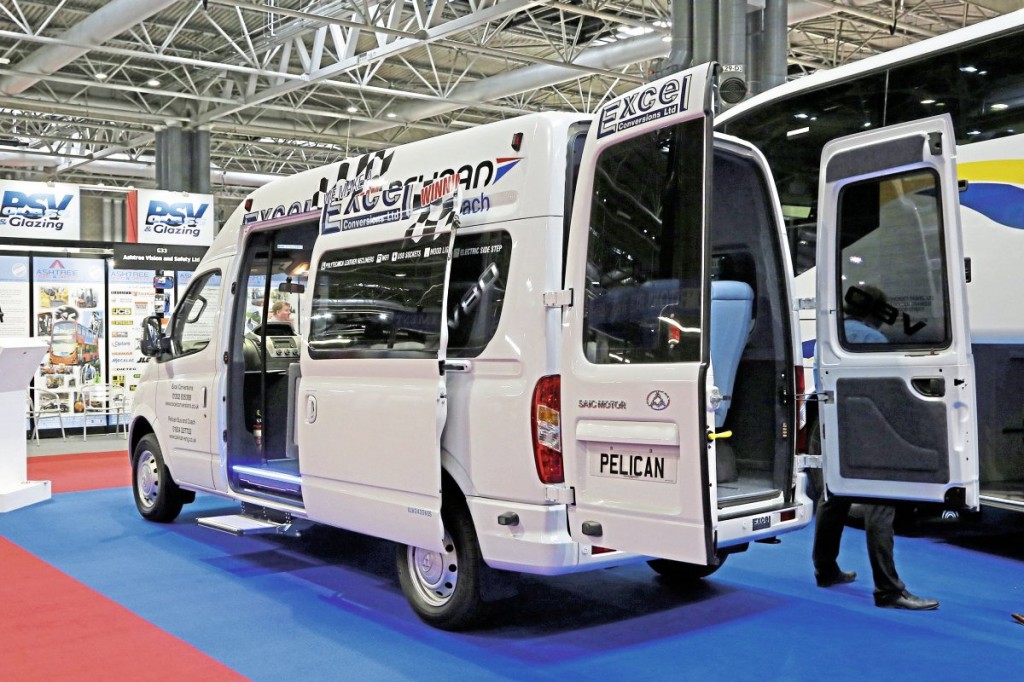 Heaving with visitors was the UK's Yutong distributor, Pelican Bus and Coach's stand. The dealer's Sales Manager, Bob Elliott, was rushed off his feet, with the possibility of a number of deals to come out of the show. He said one of the vehicles to gain some of the most interest from its display was a TC9 for Swans Travel. Bedecked in the company's livery, the midicoach was to a sumptuous specification, featuring passenger wifi, tables, LED strips across the ceiling, a servery, full air conditioning, USB sockets to every seat, three pin sockets and 26 seats, which are on tracking, meaning the vehicle can be reconfigured to have 39 seats if required. A full fridge and courier's microphone are at the front.
Another TC9 was shown in the livery of Travel Green, which was to a more standard specification. The 9.35m coach has 37 seats, Webasto air conditioning and Cummins ISB6.7 320bhp matched to a ZF six-speed automatic transmission. Speaking to David Green of Travel Green, an aspect that drew him to the Yutong range was Pelican's support of its products. He said, "My vehicles are like fire engines; they are fuelled up and ready to go, they are just waiting for that call. So I need the back up. Everyone is friendly at Pelican. You call and they say: 'Yes, what's the question?' And they get on with it. The parts are not expensive either."
Sat next to David on the stand was Gwyn Williams of Williams Coaches, Powys. He said of Pelican: "They are nice people to deal with. And with the coach centre coming up, it should get better." David agreed with the idea that the new centre and showroom shows the dealer's long-term intentions for supporting the marque.
Pelican's stand also featured a Yutong TC12, which was bound for Ashcroft Travel. This will be the operator's third vehicle from this marque. The 12.28m coach's standard specification includes Webasto air conditioning, 53 seats (51 with centre door and toilet) and 10.8litre DAF MX-11 400hp engine coupled to a ZF six-speed automatic transmission.
Pelican also showed a nice example of the SAIC LDV V80 conversion introduced earlier this year. The conversions are carried out by Peter Vernon's Excel Conversions of Doncaster. It was to the high standard that one expects of this specialist convertor. The vehicle featured an extra step at the side entrance and seating for 11.
Peter is pleased with the way the project is going and has completed a good number of conversions of the V80 for Pelican including building one for the visitor centre at Vinlandia, the Roman archaeological site up on Hadrian's Wall. The vehicle is operated as a minibus during the spring and summer but in the winter the seats are removed and it becomes a mobile display space promoting the Centre.
Outside, the dealer provided demonstrations of its E12 full electric bus (as featured in B&CB 1446, 8 September 2017).
King Long rebuilding brand
The UK operations of Chinese coachbuilder King Long, which suffered setbacks under previous management, are being rebuilt by new management.
"We are rebuilding the brand," said current Managing Director Europe, Chris Cassar. "The response has been good to our current activity."
King Long in the UK moved to new premises last year, and is again trading with a range of King Long coaches, including its Dynasty and Dragon midicoaches and Empress 12-metre coach. It also has a range of school and city buses, all built in China but with familiar Cummins engines and ZF gearboxes.
Chris said the Birmingham operation has concentrated effort on providing good aftersales services and has honoured warranties for vehicles sold under the previous regime: "The important thing is that the manufacturer has not abandoned the UK market, and that residual pricing is recovering."
Sales of new and of current used stock are being managed by the experienced Paul Nicholson. King Long will be launching a new product at Busworld in Kortrijk, and Chris said the third generation of its products are expected to arrive in Spring of next year.
Two Treka vehicles at show
On its own stand, Treka Bus showed an extra-long wheelbase Mercedes-Benz Sprinter van conversion for Dawson Rentals, a long time customer. The model can accommodate up to 21 passenger seats or alternatively can carry up to six wheelchairs. In this instance the vehicle was seated at 17. Although the vehicle was built for Dawson Rentals it will actually be operated by CT Plus of London and had been built to their specific requirements with a unique grey wipe clean trim and red handrails.
It has a PLS Access H underfloor cassette style passenger lift which is equipped with facilities to attach a retrofit PLS Door Safe barrier if required.
London Hire showed a Treka Bus Mercedes-Benz Sprinter 514 van conversion. The interior was trimmed to London Hire's high standard using their own grey and red moquette. Seating for 16 passengers used a mix of Phoenix Blenheim and Shuffle seats. Shuffle seats enable seats to tipped up and then packed together by sliding along the floor tracks enabling wheelchair space to be created without removing seats. The vehicle featured a 1200mm wide electric AVS step at the side entrance and lift and latch Candy Cane hand rails which extend outside the vehicle making for easier boarding. At the rear the vehicle was fitted with a PLS Access H passenger lift and PLS Door Safe barrier facility. The Treka can carry up to six wheelchairs.
The vehicle was also fitted with the Treka Safe package which includes front and rear parking censors, colour reversing camera, nearside camera and a dash mounted monitor.
Minis to Midis shares honours with Noone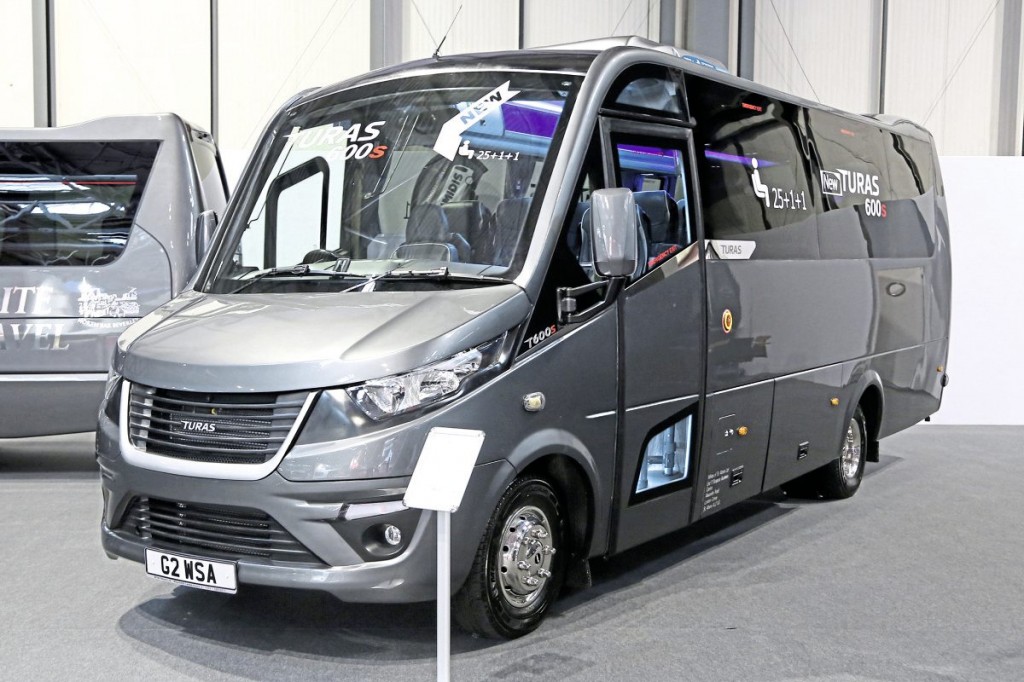 Easily the biggest display at the show was on the Noone/Minis to Midis stand with no fewer than seven Turas coachbuilt exhibits.
New to the range is the Turas 600. Two examples were on show; a 600S and a 600S VIP. Both vehicles were built on the 70C18 Iveco New Daily chassis with Hi-Matic automatic transmission. The 600S was built for Whites of St. Albans and was fitted with 25 Sege belted seats trimmed in leather. There was also a courier seat. The 600S VIP again used the 70C18 chassis with Hi-Matic transmission. It was fitted with 21 Kiel Avance belted seats plus two tables. There was also a courier seat.
Both vehicles featured a power door, air conditioning, tinted double glazing, parcel racks, entertainment system with PA, reversing camera and a large boot.
Two examples of the Turas 700 were on show, both on the 70C18 Iveco New Daily chassis with ZF-derived Hi-Matic automatic transmission. One was seated at 29 plus courier and was built for Kerry Coaches of Ireland. The second example was seated at 33 plus courier using Sege seats. The vehicle was built for Ridleys Coaches. Both vehicles featured air conditioning, power door, tinted double glazing, parcel racks, entertainment system with PA, reversing camera, USB sockets and large boot.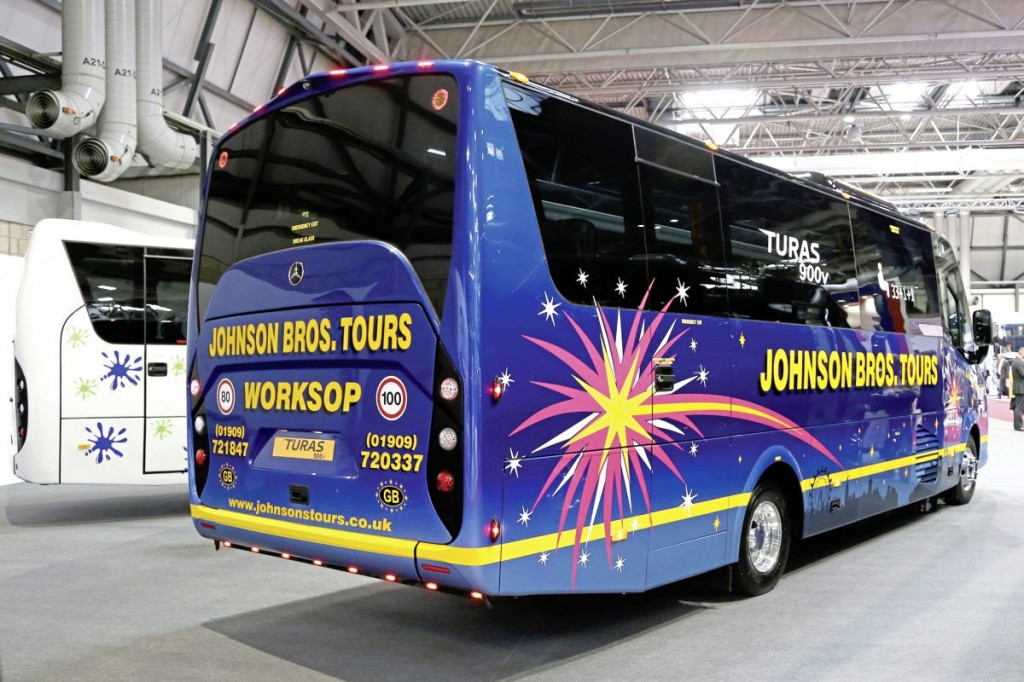 Representing the top of the Turas range were a pair of 900s. The Turas 900 uses the Mercedes-Benz Atego chassis which has the steering modified to bring the driver more in line with entrance and move the bulk of the engine out of the saloon space. The vehicles on show were a 900V and a 900. The 900V was built on the Atego 918L chassis with manual transmission and was commissioned by Johnson Brothers. The vehicle was fitted with 33 Sege belted seats plus courier. The 900 was mounted on the Atego 1021L chassis with six-speed Power Shift 3 automatic transmission. It was fitted with 37 luxury executive belted seats and was built for Irish operator Tony Doyle.
Both vehicles featured a power door, air conditioning, parcel racks, tinted double glazing, Bosch Classic entertainment system with PA, DVD player and drop down screen, reverse camera, mood lighting, a large boot and Alcoa Durabright alloy wheels.
The final exhibit represented the other end of the range being a coachbuilt Turas 500. This model uses the Mercedes-Benz 516 extra-long wheelbase chassis which allows for a full eight-metre body length. The vehicle is fitted with automatic transmission and a Telma retarder and was built for Acklams Elite Travel of Beverley, East Yorkshire. It was fitted with 16 Sege belted seats plus courier. It featured power door, tinted double glazing, air conditioning, racks, downlit side panels, upgraded entertainment system with pa, DVD player and screen, reverse camera and a large boot.
Nu-Track upgrades CityLift
The Northern Ireland builder, part of the Wrightbus Group, used the Show to launch a second version of the City Lift.
Previously, the City Lift has been exclusively built on the VW Crafter 5.5t chassis but the new version is available on the popular Mercedes-Benz 5.5t Sprinter chassis with either manual or automatic transmission. The vehicle can seat up to 22 passengers or alternatively up to six wheelchairs. Wheelchairs are loaded through the rear using a cassette lift. The vehicle on show was a fully automatic version and was fitted with a PLS Access Lift.
Speaking to Nu-Track's Thom Bateman he said that, although they had achieved considerable success with the VW Crafter version, there was a demand for the Mercedes-Benz Sprinter version. He also confirmed that they would be looking closely at the new VW Crafter (MAN TGE) when the 5.5t version becomes available.
Boxer-based mini on show with GM Coachwork
GM showed one of their popular conversions of the Peugeot Boxer. The conversion was fitted with GMs fold-out step/handrail system at the side entrance. Within the vehicle there was seating for 16 or alternatively 12 plus one wheelchair. The wheelchair is loaded through the rear using a Braun in-board lift.
Looking after the stand was Alison Prince who has returned to the world of accessible minibuses. She has recently joined GM looking after the North of the country, Scotland and Ireland. She was at Mellor for many years and after that at Irizar.
TBC still a VW specialist
The Northern Ireland convertor showed a VW Crafter CR50 (not the new model) long-wheelbase minibus. It was fitted with 16 seats or alternatively can carry up to six wheelchairs. It featured a Stem extra step at the entrance and for loading wheelchair passengers was fitted with a Braun in-board lift.
TBC specialise in converting VW products but have not yet converted one of the new Crafters and are eagerly awaiting the release of the 5.5 tonnes models expected early next year.
Swansea Coachworks rings the changes
Swansea Coachworks showed four very different vehicles. New to their range is a 70C18 Iveco New Daily with Hi-Matic transmission. The vehicle can seat up to 22 passengers. The vehicle features power door, soft trim, tinted glazing, LED lighting and  air conditioning. It can also be supplied with rear-mounted in-board or external cassette type passenger lifts.
Next to that they showed one of their core models, the Mercedes-Benz Sprinter 516 fitted with 16 seats. Specification included a power door, soft trim, wood effect floor, tinted glazing, air conditioning and a large boot. The model is also available with up to 22 seats.
Swansea have a reputation for building special vehicles and they showed two of these. One was the familiar Starline Party Bus built on a Sprinter 516 and featuring a very plush interior with bench seating, comprehensive mood lighting, advanced sound system and wide screen television.
The other vehicle was a Mercedes-Benz Vito with a very plush interior fitted with six massive seats, pull out tables, fridge, drinks maker. Advanced entertainment system with wide screen screens front and rear, mood lighting, power and USB sockets, dark tinted windows and air conditioning.
Newcomer Auto Cuby cuts a dash
A new exhibitor was Auto Cuby of Poland which showed four very stylish coachbuilt vehicles. The exhibits were all left-hand drive but they have experience of building right-hand drive vehicles for Japan. They are now out to establish themselves in the UK and are actively looking for a dealer who might be interested in taking the range on.
They showed a 70C18 Iveco New Daily with Hi-Matic automatic transmission. The vehicle was trimmed to a high standard and was fitted with 23 luxury seats, racks, mood lighting, entertainment package, tinted glazing and air conditioning.
Of particular interest was a Mercedes-Benz Sprinter 519 Tourist Line which was fitted with high-line coachbuilt body which gave the vehicle massive luggage capacity both at the rear and in the side lockers. It was fitted with 16 luxury seats and a very high spec internal package. Specification included tinted double glazing, air conditioning, mood lighting and a full entertainment package. The standard of finish was exceptionally high.
The third exhibit was a CityLine built on a Mercedes-Benz Sprinter 516. The vehicle is directly wheelchair accessible though the wide side entrance. It had seating for 16 with two of them being tip ups in the wheelchair bay.
The final exhibit was another Sprinter this time fitted with 22 seats. The vehicle specification included parcel racks, comprehensive lighting, tinted double glazing, air conditioning and an entertainment package.
Auto Cuby are very much a bespoke builder offering the customer virtually a free hand when it comes to specifying the equipment they wish to have fitted. The four exhibits represent only a small selection of the wide range of vehicles the Polish builder produces.
EvoBus debuts Tourismo
Mercedes-Benz probably would not have attended Coach & Bus UK 17 had it not been for the recent launch of the new Tourismo and the opportunity it presented to introduce the new model to customers.
Dominating the stand was the first right-hand drive Tourismo; the shortest, 12.3m variant, though Mercedes-Benz is making the entire Tourismo RHD range available in right-hand drive within the same timeframe in the UK as Europe. It will be joined by the two-axle M/2 and three-axle M, both of which are 13.115m long, as well as the 13.935m long Tourismo L.
Finished in Viper green, the coach was equipped with 51 Softline specification recliners. The drive-train combined the Mercedes-Benz OM470 10.7-litre engine rated at 394hp/290kW and delivering peak torque of 1,900Nm with the GO250-8 eight-speed automated gearbox.
With the new generation, there will be the additional option of the smaller 7.7-litre OM936 engine for two-axle applications and (for right hand drive markets only) the ZF EcoLife automatic transmission. The EcoLife will only be offered with the OM470 unit initially, but a feasibility study is being carried out on extending this to the OM936.
The first ten examples, a mix of 12.3m and tri-axle M models, will arrive in the UK during November/December and will be used for demonstrations, the bookings list for which is rapidly growing. They will be followed during February/March by the M/2 and L models.
The process of bedding in production at the Hosdere plant in Turkey means that EvoBus UK will not be able to deliver at the rate they would have liked during the first quarter of 2018 as a result of which 2018 volumes will be down on this year's. Orders taken already stand at around the 70 mark, with considerable interest in both the OM936 powered option and the 13.935m L model, with orders for the latter already in double figures.
Apart from the Tourismo, two 7.36m Sprinter City 45s were shown to essentially similar specifications with 13 seats plus four tip ups and a total passenger capacity of 22. One was from a batch of 22 for Arriva featuring a new assault screen with opening door and a BeGe driver's swivel seat and the other a stock example with more attractive moquette and contrasting pink hand rails. I understand that the company is looking at higher capacity options. The base vehicle is a Sprinter 515 van extended and fitted with a new low floor section at the Dortmund facility. It has a drop rear axle with a transfer box taken from a G-Wagen bolted directly to the rear of the 7G-tronic automatic transmission. Retail price on a stock vehicle is £88,000.
Ayats shows off a Scania option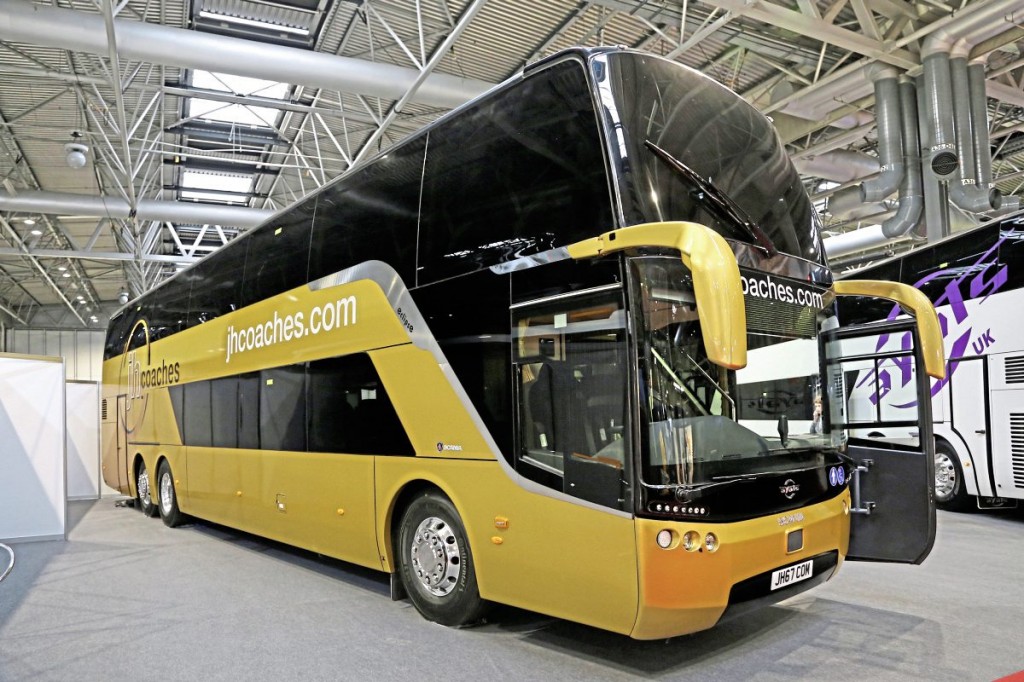 Now responsible for all Ayats sales in the UK, including the Eclipse double deck, Kronos single deck coach, Spirit super high single deck and Bravo IR City open top coach, Ayats UK Coach Sales is headed by Dave Nickson. Both of the exhibits were chassis mounted Eclipse models built at the Tona factory rather than in the integral plant in Arbucies.
Illustrating the new Scania option was a gold liveried 14.1m long example for JH Coaches (Jim Hughes Coaches Ltd) of Birtley, County Durham, with representatives of the operator on hand throughout the event. Operations director, Ian Shipley expressed delight with the vehicle and the way Ayats had worked with them to match the specification to the needs of the business, saying 'We're blown away with it.'
Replacing a Van Hool Astrobel, the DDA compliant coach can be either an 89-seater or (when the wheelchair bay is created) an 85-seater with toilet. He was very impressed with the luggage capacity (which can be up to 16m3 on the Ayats) complimenting the new addition both for the capacity and the ease of access to it, with the load height lower than the coach it replaces. Other positive features he mentioned were the stainless steel structure and GRP lower side panels, because, 'you need a longer life out of a decker.'  Peace of mind comes with a four-year chassis manufacturer's warranty purchased along with the chassis and a five-year body warranty. He concluded, 'I'm pleasantly surprised with the build quality; I've had a lot of new coaches and this is right up there.'
During the show a further order was placed by JH Coaches for a similar but non-DDA Eclipse with the same Scania running units featuring a 450hp engine and 12-speed Opticruise transmission. It will be delivered in the Spring joining four other Scania single deckers purchased this year.
The MAN RR4-480 Eclipse with 83 seats and no offside emergency door (that shown was an 81 seater with offside door) started at £350,000 if you specified a basic recliner. Prices for the Scania version started at £360,000.
Marc Soler Adea, Production Manager at Arbucies, told B&CB that Ayats would be at the NEC again next year and would be showing something new. He believes the UK market is a key one for Ayats.