The very first Used Bus & Coach Live! – held on the old Lancaster bomber runway at Newark Showground – got unstinting support from the trade and saw deals done on the day
The first-ever Used Bus & Coach Live! event saw vehicles sold over a blustery weekend at Newark Showground.
The 'bring and buy' for the coach and bus industry attracted many of the major dealerships, including event partner John Hill Coach Sales, Scania GB, Moseley PCV, Irizar UK, Volvo Coach Sales, Paramount, Festival Coach Sales, Procters Coach and Bus, ADL/Plaxton, Minis to Midis and EvoBus, along with a number of coach operators with vehicles from their fleet for sale.
JTT Equipment Services showed off a mobile bus wash which impressed visitors so much, they bought one, while suppliers VL Test Systems, mobile technician Steve Bass, parts specialists F&J Exports, Pride and Joy clothing, Mistral and electronics specialists Faltcom showed off their products.
The blustery weather did little to put off some serious buyers, with several of them sold on the weekend and dealers pleased with the level of sales leads generated by the unique opportunity not only to see the vehicles, but get them up on a TotalKare vehicle lift and even test-drive them on the perimeter roads before committing.
Among early sales was a 2011 Scania Irizar i6 77-seat tri-axle. The stunning inter-urban coach with full destination equipment, priced at £139,000, is on its way to PC Coaches of Lincoln, after its first life with West Coast Motors.
There were a few spots of rain on the windy Saturday, and the previous day's downpour had left a giant puddle which slightly disrupted the otherwise perfect line-out of around 100 coaches and buses on the former RAF Winthorpe site, at which Lancaster bomber crews were trained in WWII.
The huge runway area was divided into a pedestrian zone along which the vehicles were arranged, with the area behind them used to get them out on test drive. Suppliers took space in the site's café building.
"This was our first event, planned and organised over a very short lead time although the idea has been on our minds for some time," said joint event organizer Sallyanne Davis, of Bus & Coach Buyer. "Feedback has been positive with confirmed vehicle sales and leads taken by many of the trade and by operators taking their own vehicles.
"We are thrilled with the first event but there are changes to be made for the future. We look forward to seeing everyone next year"
"The support from the trade was superb and, in the final analysis, most sold vehicles at the event," said joint organizer John Hill, of John Hill Coach Sales. "Yes, there are areas we will improve."
We were pleased with the outcome of the weekend. It was definitely worthwhile coming. Please count us in for next year." Kevin Procter, Procters Coach and Bus Sales
"Used Bus and Coach Live is a good initiative; a much-needed event which has value in the used vehicle industry. We picked up several good leads which we are expecting to get something from and I see no reason at all why we wouldn't support it again next year." David Porter, Volvo Bus
"Personally, I think the event was a great success and we sold a vehicle off the back of it. This type of event brings people together and Scania GB look forward to working with you at Used Bus and Coach, 2018." Steve Lambert, Scania GB
Sold to PC Coaches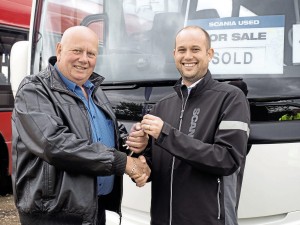 Scania scored the first sale of the event, shaking hands with PC Coaches on a deal for a lovely 77-seat Irizar i6.
The former West Coast Motors vehicle, with a price tag of just £139,000, was an '11 plated inter-urban spec coach with destination gear. PC Coaches' chief engineer Mark Andrews and MD Pete Smith picked the vehicle out of the line-up on Saturday morning.
"We'd planned to bring three coaches for sale," said PC Coaches' MD Pete Smith (shown on the left). "Fortunately or maybe unfortunately, we sold them all by Saturday! But the cash went towards this Scania i6. We like our Scanias, and get great support from Scania GB."
Seated in a 3+2 pattern, the coach will be used by PC Coaches from the Louth, Lincolnshire, depot it established last year, on a variety of work but especially on PC Coaches' extensive schools work.
"It's a Euro 5, so we can take it into London, and the addition of a toilet – and extra-wide seats across the back – makes it the ideal coach for schools," Pete added. Kris Bell, Scania's Sales Development Manager, sealed the deal
Gemini hybrid got attention
Volvo had an interesting bus in the form of a Volvo B5LH hybrid with Wrightbus Eclipse Gemini 2 double-decker bodywork. It featured 68 seats, CCTV, an I-Shift gearbox and a 215bhp engine and 279,274km on the clock. Retail Bus and Coach Sales Manager, Jo Standbridge, said their stand had seen a "good, steady flow" of people. As well as the hybrid, the dealer also had a tri-axle 9700 and three Jonckheeres on B9Rs.
£0,000 price tag?
Providing a flash of extra colour in the vehicle line up was Paramount Sales and Financial. Its orange NEOPLAN Tourliner, new in 2011, priced at £78,995 caught the eye but most people's attention was drawn to the 'For Sale' sign on a 96-plate Volvo B10M Plaxton Premier 57-seater priced at £0,000! Formerly owned by Glovers of Ashbourne, the special display was to "get people looking", according to Sales Manager, Tom Dicks. The 57-seater was actually for sale at £25 per seat but they were delighted to get £1,080 for it… from the scrapyard! "Everybody here walked up and down and had a look," he said.
Commenting on the event, Tom said, "It's a good thing, you've got the vehicles here and you can take them on a test run. As a dealer, it's a good place to get your name out there."
Tom went on to say that Paramount creates test drive videos, available to view on its website. It puts cameras on the exterior and interior of a vehicle. It also takes aerial shots. So far, the dealer has had three sales based solely from these videos: "It's a bit different but that's what we want."
Festival made debut at event
Making its first public display was Edinburgh-based Festival Coach Sales. The business was set up at the beginning of this year by John Campbell, who operates Festival Travel. John was selling a 16-plate NEOPLAN Tourliner with 49 executive seats and 36,000km on the clock. He said he is currently harnessing Facebook as a sales platform. Selling used coaches is not new to John, in particular he has experience of selling to Cyprus for a number of years. He said his coach operation is going "really well".
Procters sells three
Having a particularly good Used Bus & Coach Live was Joe Cunningham from Procters Coach and Bus Sales. The dealer made three sales over the event, including a '12-plate Caetano Levante, which had just been converted to 70 seats by the dealer the day prior to the event.
Based on the Volvo B9R, it went for £96,000. Formerly operated by National Express, it is DDA compliant, still featuring its wheelchair lift. There was no surprise this one sold as Joe said it had gained "quite a lot of interest". The second, an '06-plate, was also converted to a 70-seater just in time for the event. Also selling was a 29-seat Plaxton Cheetah. The '13-plate was priced at £75,000 and Joe described it as "very clean and tidy".
There was some good choice from Procters at the event, including a 2005 Scania PB with 49 executive seats and a rear toilet. Another Cheetah was on show, this one being an 09-plate, with an automatic transmission, priced at £55,000. Joe said he was willing to do a deal on this vehicle. A newer version, a 15-plate Cheetah XL was on display, which Joe described as a rare vehicle. It had 35 seats plus courier.
Another rarity was a 2010 Mercedes-Benz Atego based Esker Touring Plus with 51 seats (normally these would have 33 seats). It is the 11.5m version rather than the 10m model. Joe thinks there is only another two of these in the UK. Joe was open to sensible offers on this coach.
A '12-plate Fiat Bluebird Orion was on show, featuring 20 seats (18 of them seat-belted) and a full automatic transmission. The DDA compliant vehicle would be ideal for town services, according to Joe.
Suppliers in support
JTT Equipment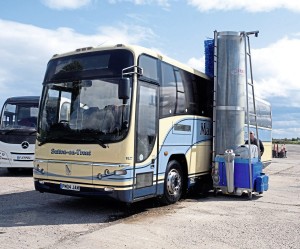 It was a great day for the guys from JTT Equipment. The company made a sale of one of its Bitimec wash systems to Applegates Coaches of Gloucestershire. Richard Benson from the company said the operator chose it to be able to deal with some of the more difficult to wash vehicles in its fleet.
Totalkare
For those who wanted to take a closer inspection of the vehicles, Totalkare provided a set of S6 wireless column lifts for the event. Each lift has a capacity of 7.5tonnes.
Pride and Joy
Taking a stand at the event was Pride and Joy Clothing. They had an array of examples from its range, from ties to shirts and jackets to fleeces. One of its best sellers are shirts, which they have a "never-ending" demand for. Soft shell jackets are proving popular for the company, which are now replacing fleeces.
Pride and Joy were one of the key sponsors of the event, providing us with our branded workwear and much needed hi-vis. We would like to thank them for their support and look forward to working with them in 2018.
VL Test Systems
VL Test Systems was there promoting its workshop equipment. The company's Technical Sales Area Manager, Steve Stacey, said ATF lanes have "eased off", but what is keeping them busy are its brake testers, which they are selling a considerable amount of. He said the company manufactures from scratch, there are no imported parts. It also installs and services the equipment for customers, with everyone it uses for this work employed by VL Test Systems.
Mistral
Plenty of information was available from Mistral's stand. Whether considering buying a vehicle from them or even looking to finance a coach on the day, they could help. They also had a Plaxton Cheetah on display.
GH Watts
Anyone that wandered into the trade area would have no doubt seen the ski box displayed by GH Watts. Engineered in Germany, the product is moulded from GRP and is available in three sizes: Standard, Mega and Deluxe. They are delivered to customers primed and feature fold-up shelving, adjustable shelf fixings and LED lights. The box will be professionally mounted to clients' vehicles. They have a hinged fixing, which allows it to be folded away, making it easier to access the vehicle. GH Watts is the official UK agent for these.
Forest Asset Finance
Corporate Development Manager at Forest Asset Finance, Alan Dale, was there. He noted there were some genuine buyers.